See on Scoop.it – Logotherapy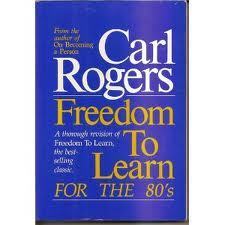 I'm revisiting a book I read a long time ago called Freedom to Learn by Carl Rogers. After a bit of browsing a few of his points and questions caught my attention. I'm not yet responding with my own thoughts much. I just want to put some ideas in the book out there for contemplation. This is the thrust of the book as well, that no one can teach someone else anything. We can only learn together.
One area that interests me is the question of values. Rogers talks about how the infant knows what it wants but we then values are imposed on us and we learn over time not to trust ourselves. He says that in therapy we slowly learn to trust ourselves once again….
See on meaningtherapy.wordpress.com