See on Scoop.it – skills services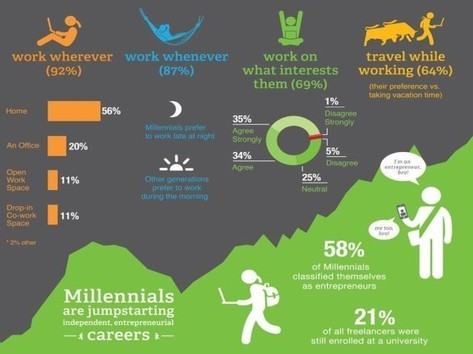 HR and communication challenge s ahead… What do Millennials want? Flexibility and independence top the list, according to a new study, "Millennials and the Future of Work," from oDesk…. Millennial workers want freedom and the flexibility to work how they want. Many Millennials have a "freelance" attitude. Almost nine in 10 (89 percent) say they prefer to work when and where they choose (compared to a corporate, 9-to-5 job). When comparing freelance work to "regular" jobs, Millennials say freelancing gives them more freedom to: – Work wherever they like (92 percent). – Work whenever they like (87 percent). – Work on more interesting projects (69 percent). – Travel while working (half say they'd prefer this to taking vacation time). You Might Have a Closet Freelancer on Your Staff Many Millennials are biding their time at regular jobs and freelancing on the side until the time is right to leave. Nearly three-fourths (71 percent) of those who work regular jobs want to quit to be entirely independent; 61 percent say they likely will quit within two years, and 17 percent say they definitely will….
carol k's insight:
Very interesting, the technology certainly exists to make this real. Organisational structures however, are slower to change. The move to flexibility I think is a good one, affording a better work life balance.
See on smallbiztrends.com